We just received an iPad for our classroom (actually to share among the kindergarten team), and my kids are LOVING it! Here are a few of the apps that they are enjoying:
Monkey Word School Adventure has three levels of play and will self adjust to the child's level. My kids can't seem to get enough of this one!
Montessori Crosswords is one of my favorites. I am having my students who struggle with word building/ decoding use this one. They can touch the boxes to hear the letter sound that needs to go there. It also has different levels of play. My high achievers love the crossword part of it!
Dora's ABCs- Vol. 3- Ready to Read is also a favorite right now. Lots of word building/ word recognition in this one. My pet peeve, though is that all of the letters are capital! Other than that, it is a good one!
I am hope to compile many more apps for kindergarten. Right now I am looking to add some good math apps. Hopefully the Linky Party at Mrs. Wills Kindergarten will give me some great additions!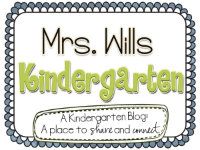 iPad Linky Party @ Mrs. Wills Kindergarten